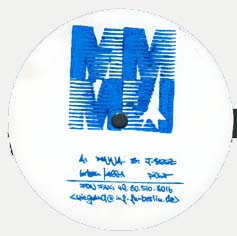 MMM 2, 12" vinyl: 
                              
      A1. donna                      B1. j-beez (+ loops) 
      A2. unterm messa               B2. piano


      mastering: robert henke (monolake) at dubplates & mastering
      pressing: pallas via eldorado
      Vinyl distribution by Hard Wax
      Buy vinyl and digital here.   


Boomkat review
shhhh.......! It's ok, really, it's nothing to be ashamed of. Better people then us have dared to admit that they don't own this record and, well, it's been unavailable for so long that you'd be forgiven for not owning it too. Without doubt one of the most definitive dancefloor twelves EVER released - caned time and time again by absolutely anyone who's anyone and a desert island jacking twelve to beat them all. No excuses this time round, y'hear?!!??