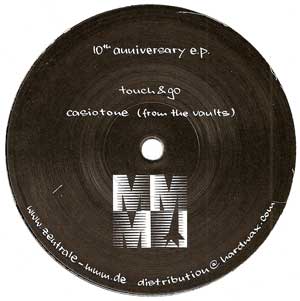 MMM 3 / Soundhack 4,  12" vinyl

MMM: touch and go
MMM: casiotone

soundhack: devils run
soundhack: rodeo


mastering: rashad at clunk, cut at dubplates & mastering
pressing: pallas via eldorado  


Vinyl distribution by Hard Wax
Buy vinyl and digital here.


Info:
After celebrating the 10 years anniversary last year, MMM and Soundhack have a split release together.
This true double A side features fresh current productions as well as 'from the vaults' tracks, goodies they found on tapes from back in the days, when they just started these projects.
The soundhack side kicks off with 'devils run', which shows the darker side of his style. A fine example of the trademark soundhack sound, reduced to the bone, this track starts with a seductive 2 minutes foreplay which ends in one of the heftiest bassdrum drops in history! To be heard loud in a club to fully grasp the impact of this track. Second track is 'rodeo', the perfect ingredient to balance things out after such an heavyweight. This track, straight from the vaults, is a suitable companion for your next barbecue: swinging, joyful and funny! Yiiiiehhahh!
For MMM it is a special release. It's not only celebrating the 10 years of existence but marks also their reactivation. After a loooooong pause they startet to produce tracks again. The first fruit of their resumed work, 'touch and go', is the opener of their side of this fine release. Produced with blink in a eye this track combines catchy high energy melodies, eurotrance basslines, cheap disco bells and cheesy horns in a nonlinear and fresh course of action. Is this trash? The crowd on the floor doesn't care. They just throw their hands up in the air! The following 'casiotone', again from the vaults, was made only as a demonstration of a guitar effect pedal to a friend. Fortunatly the record button was pressed! This unpretentious gem is the perfect tool for the dj in need for that little extra.
rubadub review
We are always excited about a new release from our favourite multi-faceted Berliner's Smith n Hack aka MMM aka Soundhack etc. and this unexpected new split MMM/Soundhack ep is certainl no disappointment. Proving the exception to the rule about German's sense of humour, the first MMM track, 'Touch & Go', sounds like their take on old Hi-NRG, Bobby-O style gay disco, the sort of thing you might have heard on an 18-30 holiday in Rimini in 1986. Clumsily treading the thin line between pure cheese and outright daftness, one things for sure, this has already got web forums and blogs buzzing with plenty love-or-hate type chat. Is this some sort of private joke bewteen Erik and Fiedel? Who can tell? On to the next track, 'Casiotone', which as you might imagine, fuses the cheap tinny sound of Casio percussion, with the filtered analogue blips and blops that have become the MMM staple. The result is a jerky stop-n-start number, with that harsh raw sound that will shred ears and minds in the club.

Over to the flip for the Soundhack side, and its back to the familiar housey cut-up stomp of prevois 'hack outings. For some reason, their beats always conjure up images of long, regimented lines of computer-generated oompah loompahs hopping back and forth on the spot, only this time they have cowboy hats on. The second track, fittingly titled 'Rodeo' uses a tight feedback effect which results in a metallic sheen to the sounds, suggesting smoking fiddles and steel guitars a la ZZ Top in Back To The Future 3. Say what you like about these guys, but they know what they're doing, even when no-one else does.